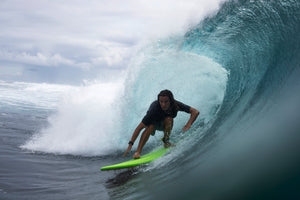 SURFING SHOULDN't BE SO HARD
Australia's #1 Soft Surfboard Brand
surfing shouldn't be so hard!
Hi! We're a Soft Surfboard brand from Australia. Whether you're a competent surfer, or just getting started, we offer a complete range of softboards with the aim of getting you in the water more often!
There's STILL TIME!
Whilst we encourage you to get your orders in as early as possible, there's still plenty of time to get your Xmas Orders!
Click & Collect - Our Chippendale (Sydney) HQ will be open for Pick-Ups Monday - Friday (excluding Holidays)
Shipping Times - All our orders usually ship Next Business Day with shipping times as follow:
Overnight Shipping to Sydney, Melbourne & Brisbane Metro Areas.
2-3 Business Days to East Coast Regional Areas
5 Business days to Perth
7-10 Business Days to regional WA
FOR THE GROMS
SOFTLITE NEO 38"
Ideal for the young grommet just getting started in wave riding. The Neo could best be described as a "surfboard shaped" bodyboard. Perfect for getting dragged along the sand, and can even fit under the arm of the more serious grom. Being nice and narrow it's nice and easy for them to paddle around on.
Please Note: The Neo is only 38" (about waist high) and is not suitable for learning to stand up surf. More of a surfboard shaped Boogie board.
shop now
ultimate performance
hybrid series
A new generation of Soft Surfboards with a greater focus on performance.
see more
TOP SELLERS
CHOP STICK rANGE
Mini Mal shapes from 6'0 to 9'0
Perfect for Beginners or Advanced riders.
view range
board buying guide
softboards for kids
Softlite Softboards are the perfect first board for any aspiring grommet!
When choosing the best boards for kids to learn on we follow some slightly different rules, so have put together the following guide to make choosing the right board easy!
See More
pop stick range
Shortboard shaped soft surfboards from 5'6" to 8'0"
ideal for intermediate to advanced surfers.
View Range
learning to surf
koolite range
Our ultimate beginner boards. The Koolite Board uses our Mini Mal Template with a bit of added thickness for maximum stability.

Holds its own if the waves turn on too!
SHOP NOW